Let us show you our version of amazing Nha Trang.
From the moment you step off the flight at Cam Ranh Airport, our team will be on hand to take care of you.
Airport transfers, hotel check-in, welcome dinner, awesome surf everyday and the best local places to eat & explore - it's all taken care of by us. All you need to do is book your flights here.
Whether travelling solo or as a group, you will come as strangers and leave as friends bound together
by a shared love for surfing, travel & good food.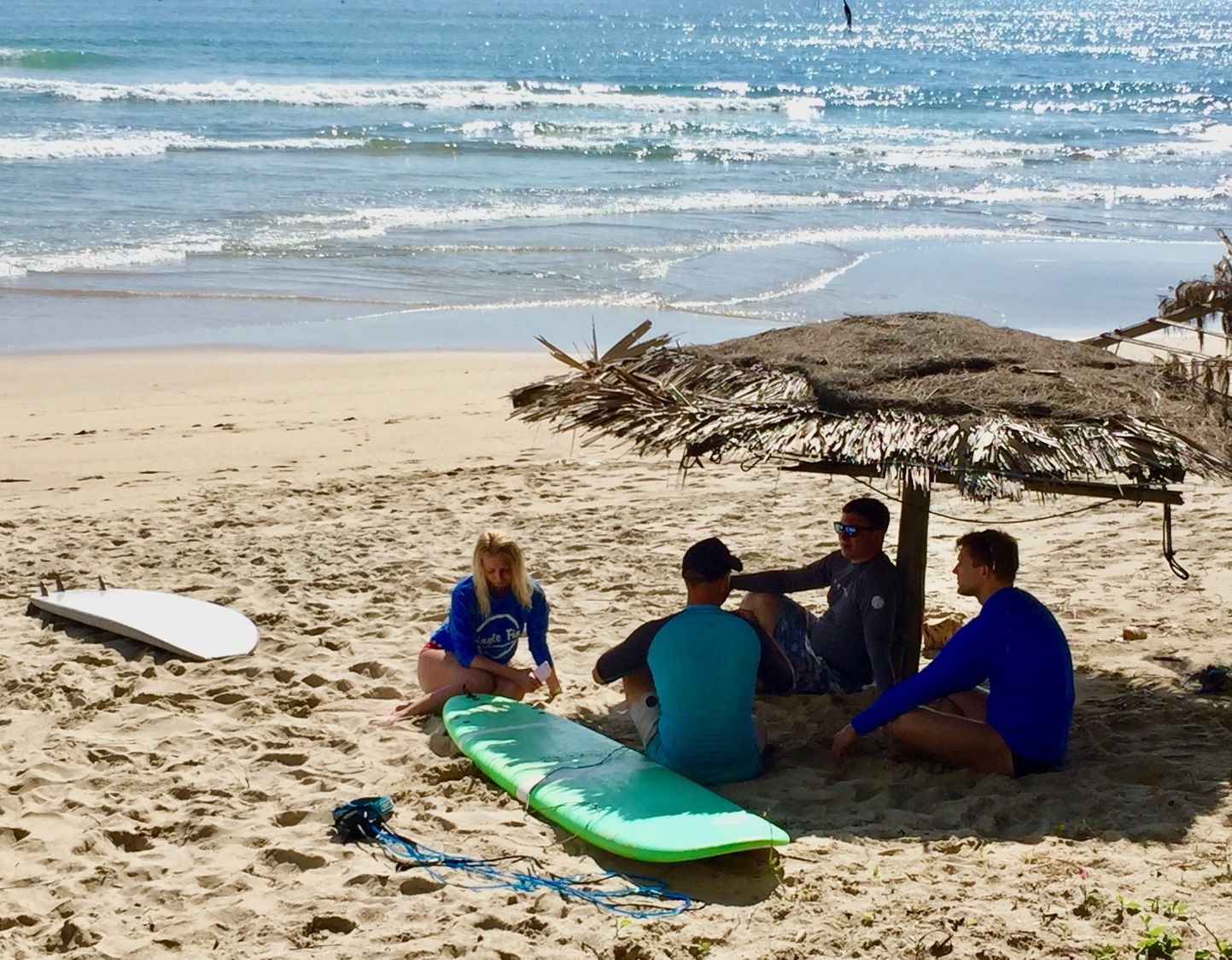 4D3N Surf & Feast Nha Trang
Airport Transfer ~ Choice of 4* or 5* Hotels ~ BBQ Dinner Get-Together ~ Daily Surfing ~ Surf Photos & Videos ~ Local Foods Tour ~ Farewell Lunch ~ Optional City Tour
Learn to Surf, Explore Vietnamese Cuisine

October is one of our best surf months out of the whole season each year. Glassy 2-3ft consistent waves every morning makes for an unforgettable surf learner journey.
Vietnamese cuisine is not ranked consistently as one of the world's best for nothing. We understand you don't know terms like "Banh Xeo", "Bun Ca" and "Nem Nuong" mean, but they sure are yummy! We live here so we know which street food rocks the best, so let us share with you what we love.
Surfing is highly addictive if you're the type to like it, and we all know that it's certainly quite a challenge on many levels beyond just the physical. An easy way to build your own surf-mates community is to join in our surf trips - meet like-minded people, make friends, surf till you drop & then enjoy fantastic local food.
It's easy & fun to navigate around Nha Trang city centre on foot if you're simply exploring, but we've already arranged to bring you to the good food spots, so just sit back and enjoy our private car transfers to our social meals. Also, the surf spot can only be reached via car!

1. Fully Organized Experience
2. 4D3N Hotel Accommodation
3. Arrival & Departure Car Transfers
4. Daily Private Car Transfers to Surf Spot(s)
5. D1 BBQ Dinner, D3 Evening Food Tour & D4 Farewell Lunch
6. Private Car Transfers to aforesaid meals
8. Surf Instructors, all surf equipment & accessories
9. Professional photographer services during surf class
10. Photo & Video Reviews & Analysis
11. Mineral Water & Snacks during surf sessions
12. General Orientation around Nha Trang city
1. International flights from Singapore to Nha Trang & back, airline taxes & fuel surcharges
3. Costs of Optional City Half Day Tour
4. Tips for Car Drivers, Activity Guides & Surf Instructors
5. Personal Travel Insurance
6. All other personal expenses not listed herein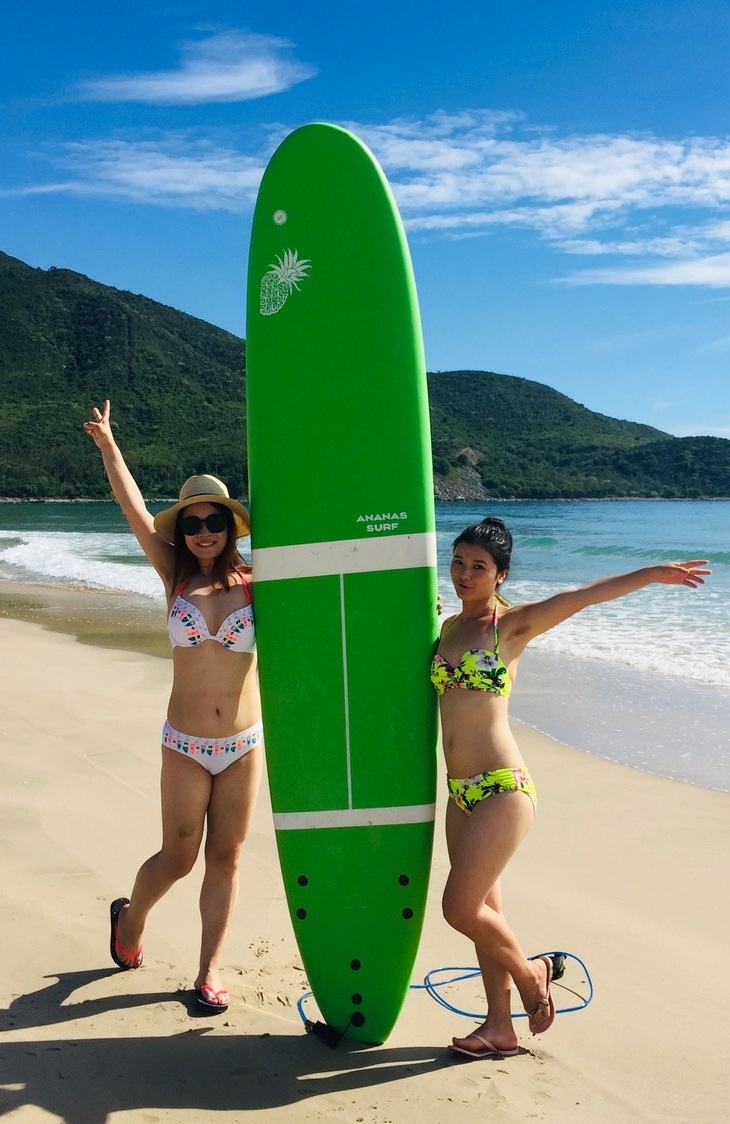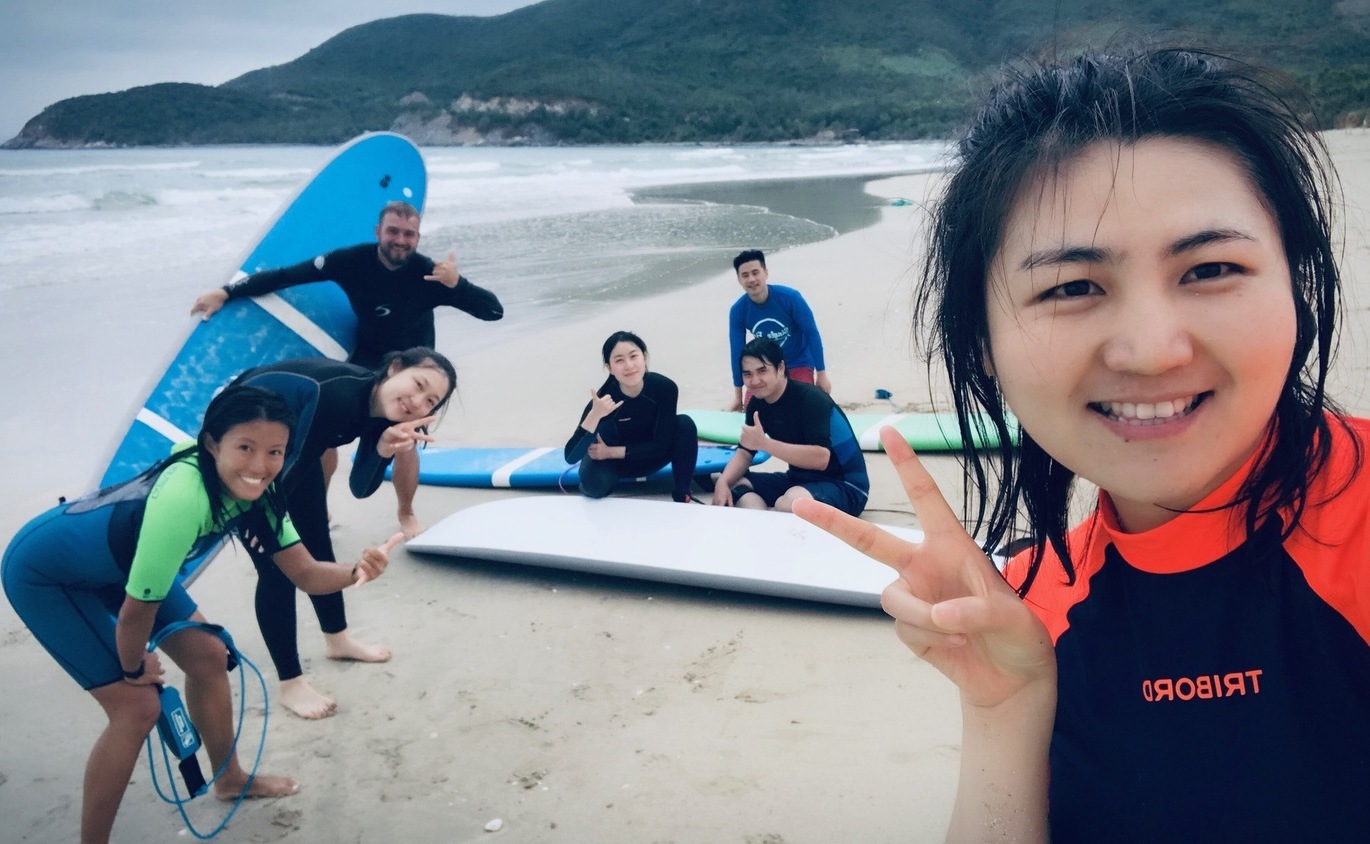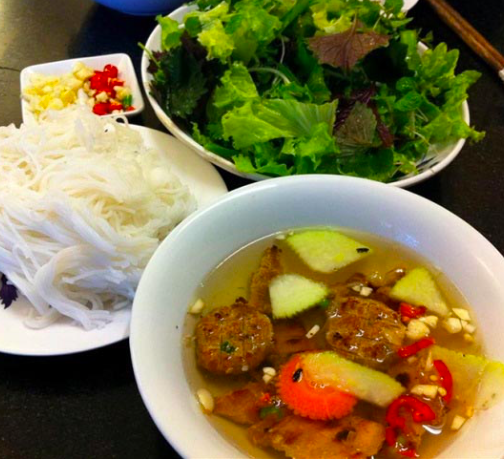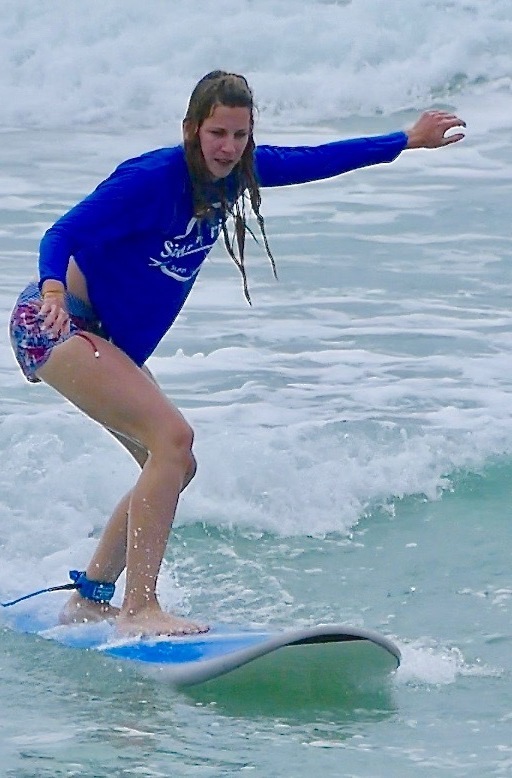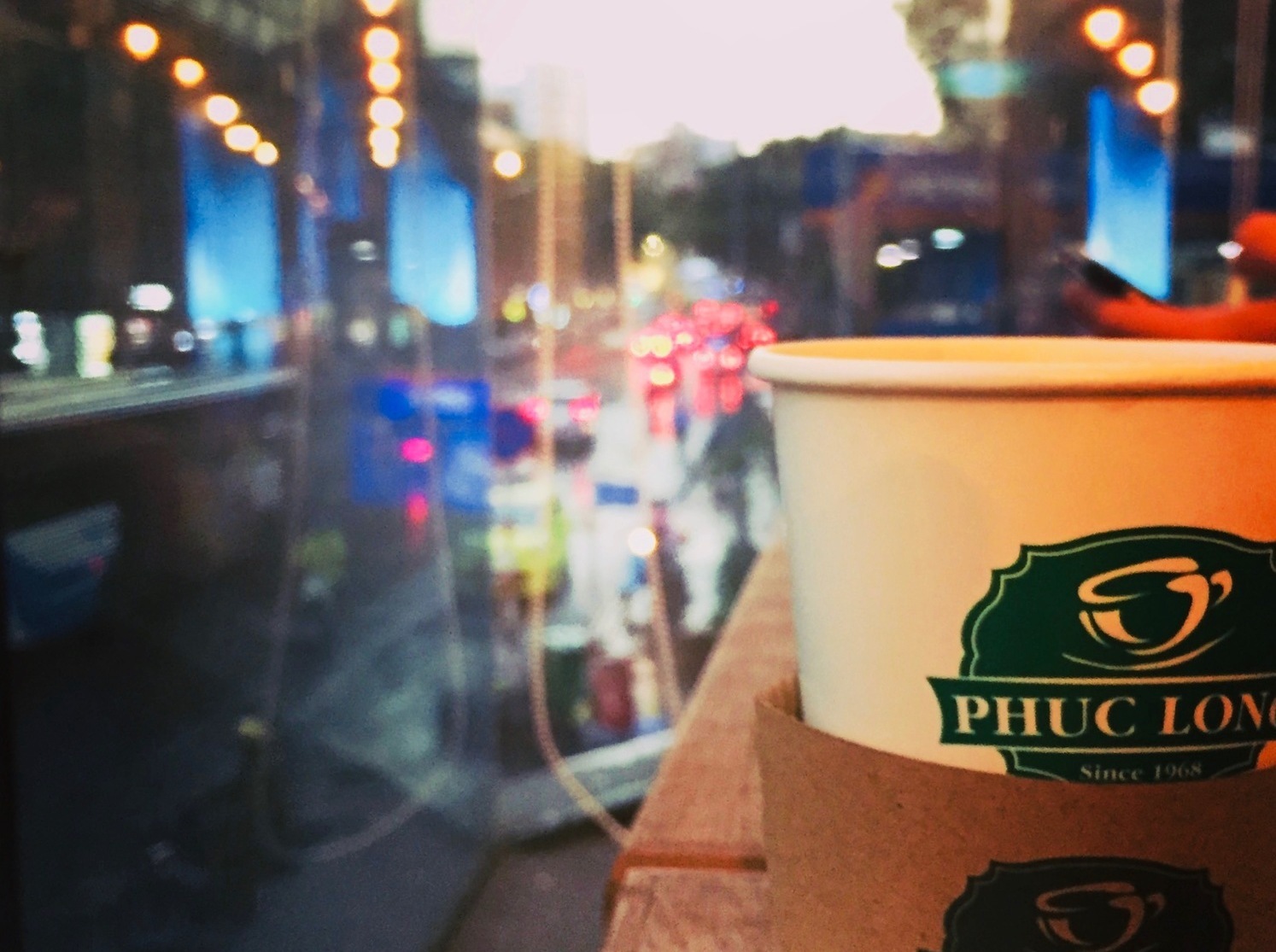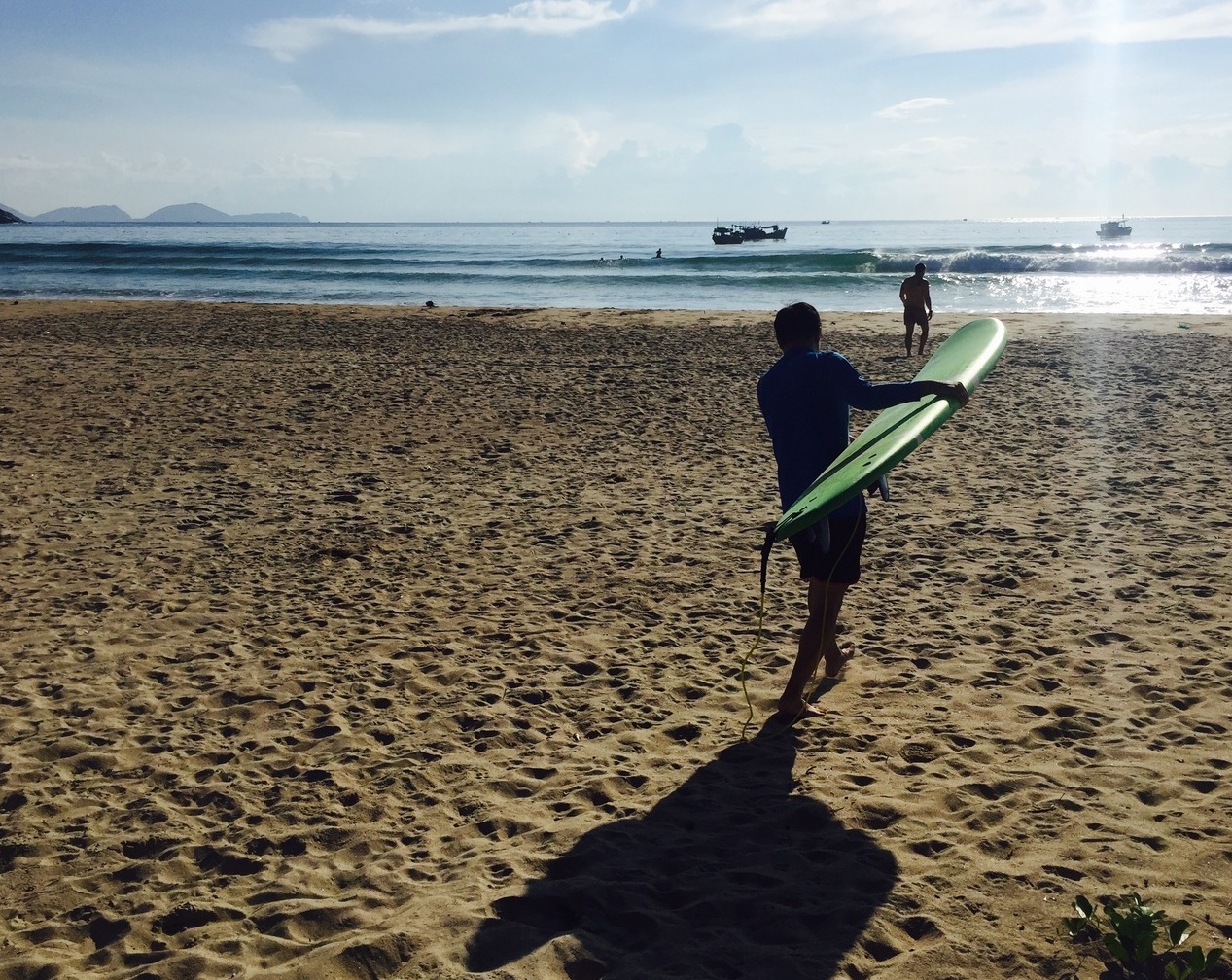 Welcome Meet & Greet@Cam Ranh Airport, Transfer to Hotel for Check In
Welcome BBQ Dinner & Get To Know Each Other
Pick up from hotel to surf spot
Morning 3 Hour Surf Class - Learn to Surf! First-time surfers will enjoy a 35 minute theory lesson before hitting the water with instructors to practice catching waves and standing up on the surfboard, followed by time for independent surfing practice.
Return from surf spot to hotel
Optional Half-Day City Tour (additional SGD 36 per pax)
OR
Free & Easy Time
Optional Surf Photos & Videos Review & Analysis (in preparation for next surf)
Pick up from hotel to surf spot
Surf Class - work on improving technique & ability based on yesterday's surf
Return from surf spot to hotel
Free & Easy Time - Get a cheap but excellent spa massage (we'll tell you where), go shopping, or simply laze by the pool, it's all up to you!
Optional Surf Photos & Videos Review & Analysis (in preparation for next surf)
Viet Foods Exploration Tour! Get to know the best local eats. Find out why Vietnamese cuisine is consistently rated as one of the top cuisines in the world with their penchant for combining sweet, salty, spicy, crunchy & soft flavors in all sorts of variations. What's on the menu: Banh Xeo ( fantastic seafood pancakes made w turmeric flour), Banh Mi (Viet style baguette sandwiches with savoury meat fillings & salad), Bun Bo (spicy savoury variation of the famous beef Pho), Bun Cha (our favourite! Cold noodles served with BBQ pork dipped in light soup), & Nem Nuong (Nha Trang's famous crispy hand rolls, not to be missed).
Check out from hotel & travel to surf spot.
Final Surf Class - consolidate what you have learned over the weekend.
Depart for Cam Ranh Airport for departure flight
* Sequence of itinerary subject to local arrangement (may vary in event of traffic jam/ weather or flight changes)
Aloha Nha Trang Hotel (4 Stars)
1 - 2 Pax :

USD 390

per person
3 - 4 Pax :

USD 370

per person
5 - 6 Pax :

USD 360

per person
**Please enquire for Single Room Supplementary Cost. Prices above are for 2 persons to 1 room (double or twin).
StarCity Nha Trang Hotel (5 Stars)
1 - 2 Pax :

USD 430

per person
3 - 4 Pax :

USD 410

per person
5 - 6 Pax :

USD 400

per person
**Please enquire for Single Room Supplementary Cost. Prices above are for 2 persons to 1 room (double or twin).
** By booking with us, you agree that you have read
our Terms & Conditions
. Slots are non-transferable or refundable. Deposits are fully refundable for trips cancelled on the part of the organizer. You are encouraged to purchase personal travel insurance before making any trip payments to us. This is to protect you against any failure or disruption in the travel product arising due to any changes in weather, flights, natural environment, ground situation in Nha Trang etc.
We can create bespoke Surf Travel Packages for you based on your requested dates, parameters & itinerary, whether it be an unforgettable anniversery trip, a special friends' gathering or corporate team building trips. Just write us at singlefinsurfschool@gmail.com to discuss.

Nha Trang is a bustling Vietnamese city that boasts an interesting mix of traditional with the cosmopolitan, all against the backdrop of white sandy beaches, clear blue waters and verdant mountain ranges. Offering a myriad of sightseeing and recreational activities, the coastal town itself is steeped with breath-taking structures that date back to the Champa Kingdom, Buddhist temples, and gothic-style Catholic churches, as well as natural hot springs, salt fields, and unique waterfalls. Catering to any budget level and preference, Nha Trang restaurants serve up fresh seafood and Vietnamese cuisine while lively bars and pubs along the pristine beach are favourite hangouts for tourists to watch the sunsets over the East Sea.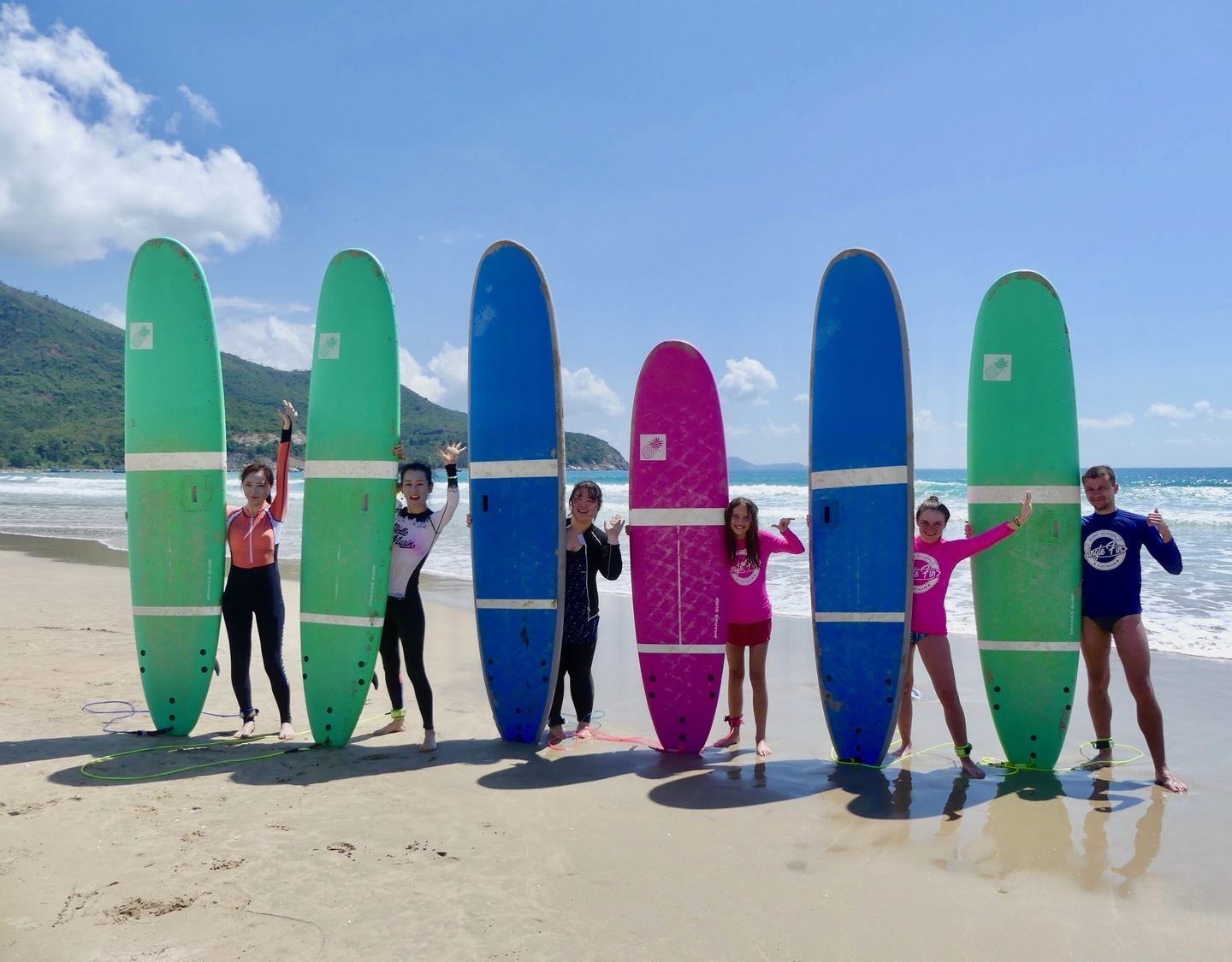 1. 4D3N of light clothing for tropical weather
6. Walking shoes for city exploration
9. Camera & other electronic necessities